Rating




Location
L1 Jewel in front of SHAKE SHACK
Duration
3pm - 5.30pm
Plugs

Wifi

Prices


---
We're back!!!
» Click here to skip this section and go straight to the review!
Greetings cafe exploiters, and happy new year. Did you miss us? Well, we're back, by popular demand, really.
Previously on cafe exploitation…
Mik was about to leave Singapore to embark on his LOVE QUEST

visting su (resident #1 mik fan) in New York for his winter break.
I had just graduated from NUS after barely passing this terrible math mod with a D+… The first D+ in my entire NUS life

In my defense last semester was crazy rough and I got clapped in all different directions… but I am out… I am FREE!!
During

winter break

For those who do not know, he got COVID in NYC and had to stay in NY for an additional 7 days… And then when he got home quarantined for another 15 days… COVID special supreme…
Also, I got a job! My initial plan was to take a 1 year break to work on myself + some side projects I have been meaning to pursue. However, the dough was too good to pass up, and I decided to just take the leap and try out this new job. I'm starting on

VALENTINES DAY

Please pray for me and wish me luck as I walk into this new chapter of my life…
UPDATE: Five Spice is no more
» Click here for the original post on Five Spice
Today, we decided to head down to Five Spice for this session of exploitation. However, Five Spice is now no longer Five Spice… as it has been rebranded into a Food Republic.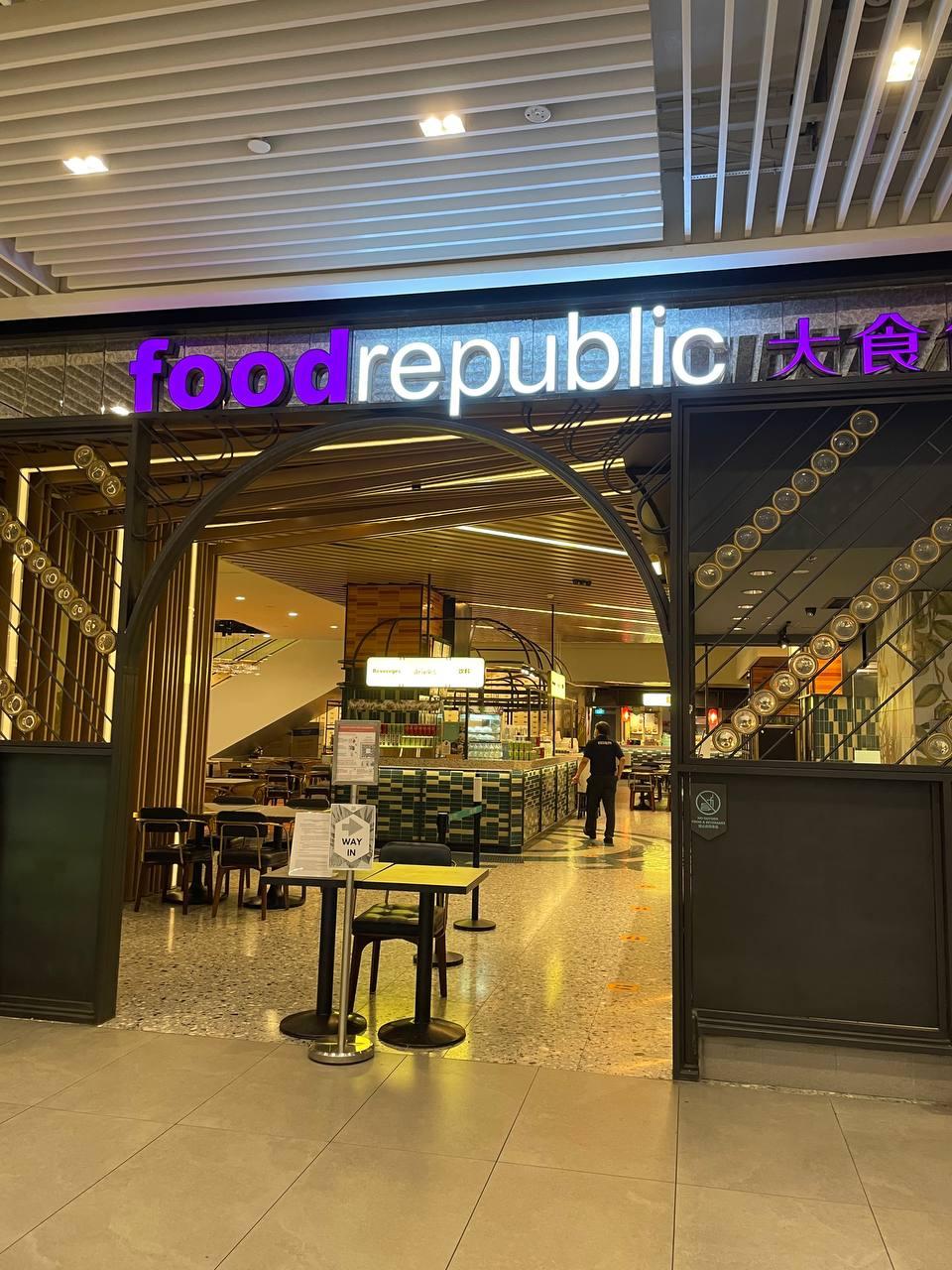 Along with the branding changes, the management has changed as well… By that I mean we almost got chased out the foodcourt.
Also, for some reason, the place is a lot colder than I remembered. As Mik and I are going to watch a movie later, I came with full body armour: jeans, hoodie and all.
Ranice vs Cleaning Lady
While we were working, there was this cleaning auntie who was cleaning the two tables where the plugs are located (and where we were seated). The last time we were here, she told us to move to the special cordoned off area where majority of the plugs were, which was a pleasant surprise.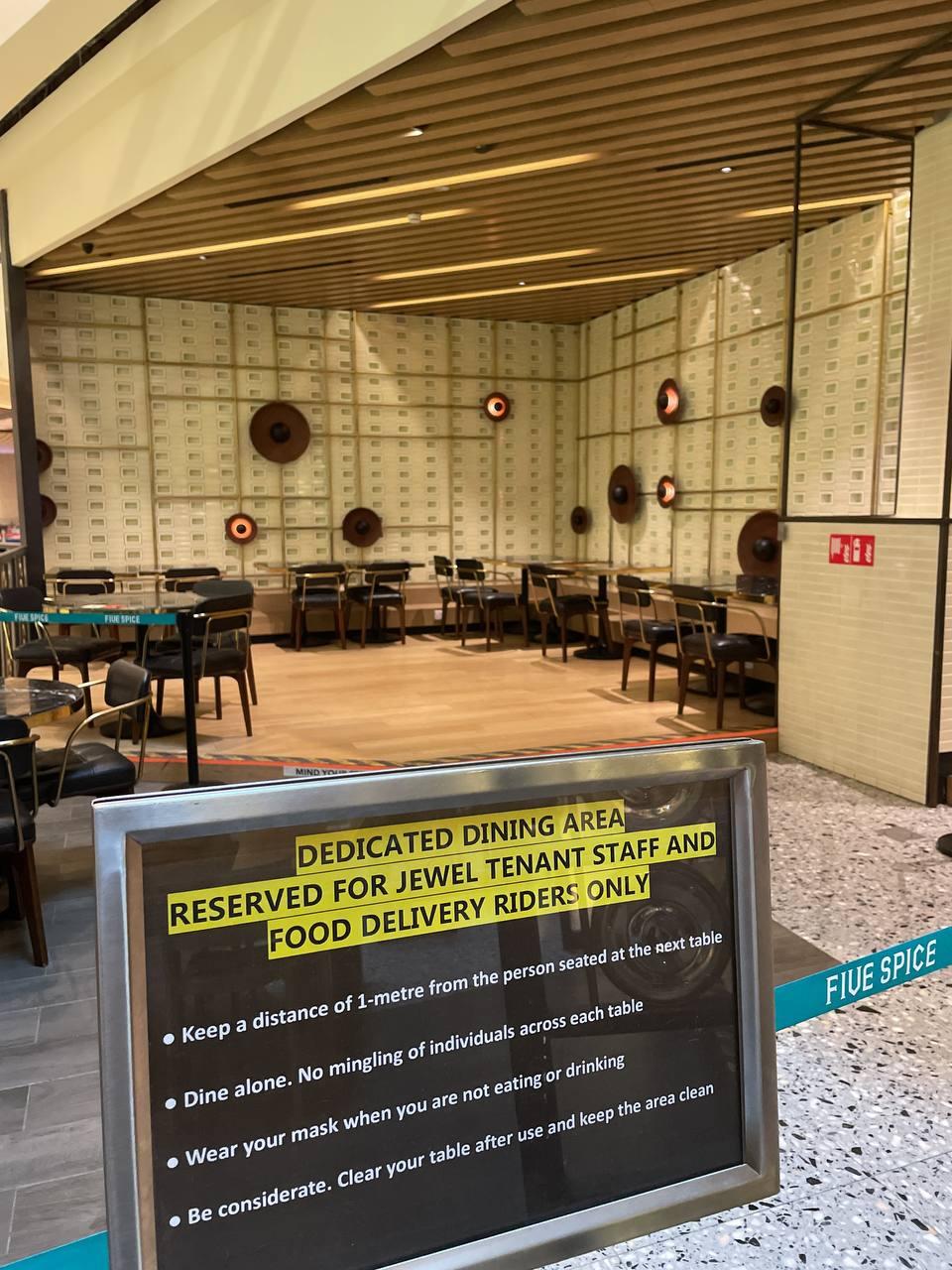 Above is the cordoned off area
However, today, it seemed like she woke up on the wrong side of the bed, as upon seeing us today, she started yelling at us and accusing us of moving the tables in the area around, and also telling us to get lost. P.S., the foodcourt was almost empty.
I was trying to reason with her in broken Chinese, however everything I said seemed to just fly over her head. For about 15 minutes, she was loudly nagging in Chinese and Hokkien. However, Mik not understanding Chinese or Hokkien, was completely unfazed.
After a while, she gave up and just told us to move to the cordoned off area.
Chased out for real
Later in the day, we really got chased out, not by the cleaning lady, but by some other food republic staff. Apparently, the area that we were sitting plus a whole huge chunk of the foodcourt had been reserved for some kind of event. Whoever is holding events in a food republic needs to fire their events planner, because food republic is the absolute last place I would hold an event at.
For a while, we were homeless, and roaming around like nomads. It seems obvious to have gone back to good ol' Fun Toast, but now that Mik is back to using his personal laptop for school, his hunger for electricity is insatiable… Another option we thought to try was Amazon Cafe, but seeing as how it was already around 3pm, we had no luck with that either. So we walked in circles, occasionally doing plug lunges to locate potential study spots.
Cafe Exploitation 101: PLUG LUNGES™
What are plug lunges you say? Allow me to educate. In Cafes, plugs are usually located at the following areas
Floor
On walls near the floor or above tables against the wall
Under counter tables
While plugs of categories 1 and 2 can easily be spotted by the amateur cafe exploiter, plugs of category 3 are a bit trickier to spot.
This is where you employ, the PLUG LUNGE™. Below is a GIF demonstration, courtesy of yours truly.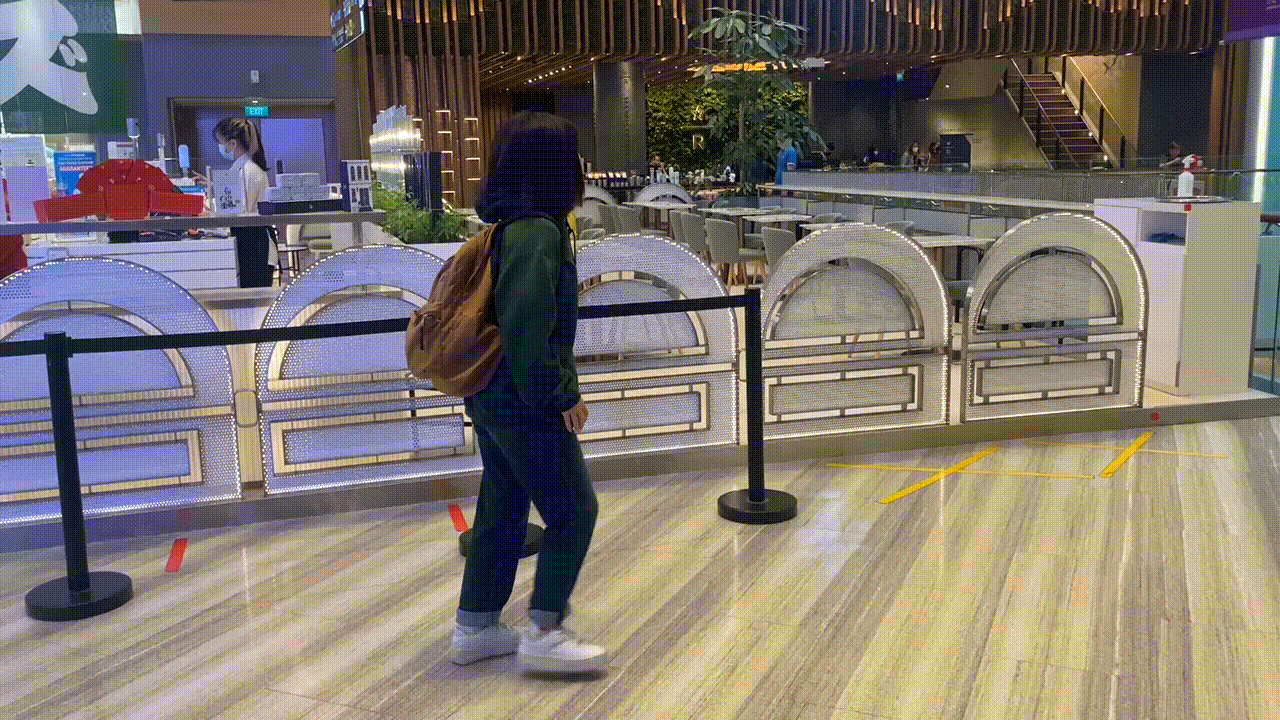 Basically, you do a lunge so that you can get visibility of the underside of tables in cafes, to inspect if there are any plugs available. A very useful tactic that has served us quite well in locating plugs if I do say so myself.
MAISON DE PB
Alas, we found a place with plug at MAISON DE PB.
This was a cafe that we long ago placed on our "potential exploitations" list but just never bothered actually trying out.
AT FIRST there was a person seated there, but just as we were about to turn away, the person left, so we went in for the kill…
The one spot that we took was the seat with the only plug available in the entire facility. The lady on the adjacent table had her laptop plugged into it using the shortest cable known to man though… We figured we could just ask her to let us use it when the need arose (in a pleasant turn of events though, Mik's laptop battery did actually last the entire time we were there so I guess it can survive more than 2 hours after all).
Coffee & Food
I would say the coffee and food here are reasonably priced, at standard cafe prices. I got a Mocha (as usual) for a price of $6.90. I also got a weird chocolate twisty bread thing for $4.90. A bit pricy but it was quite delicious. Mik got a latte for $6.00 which he said was sufficiently satisfying.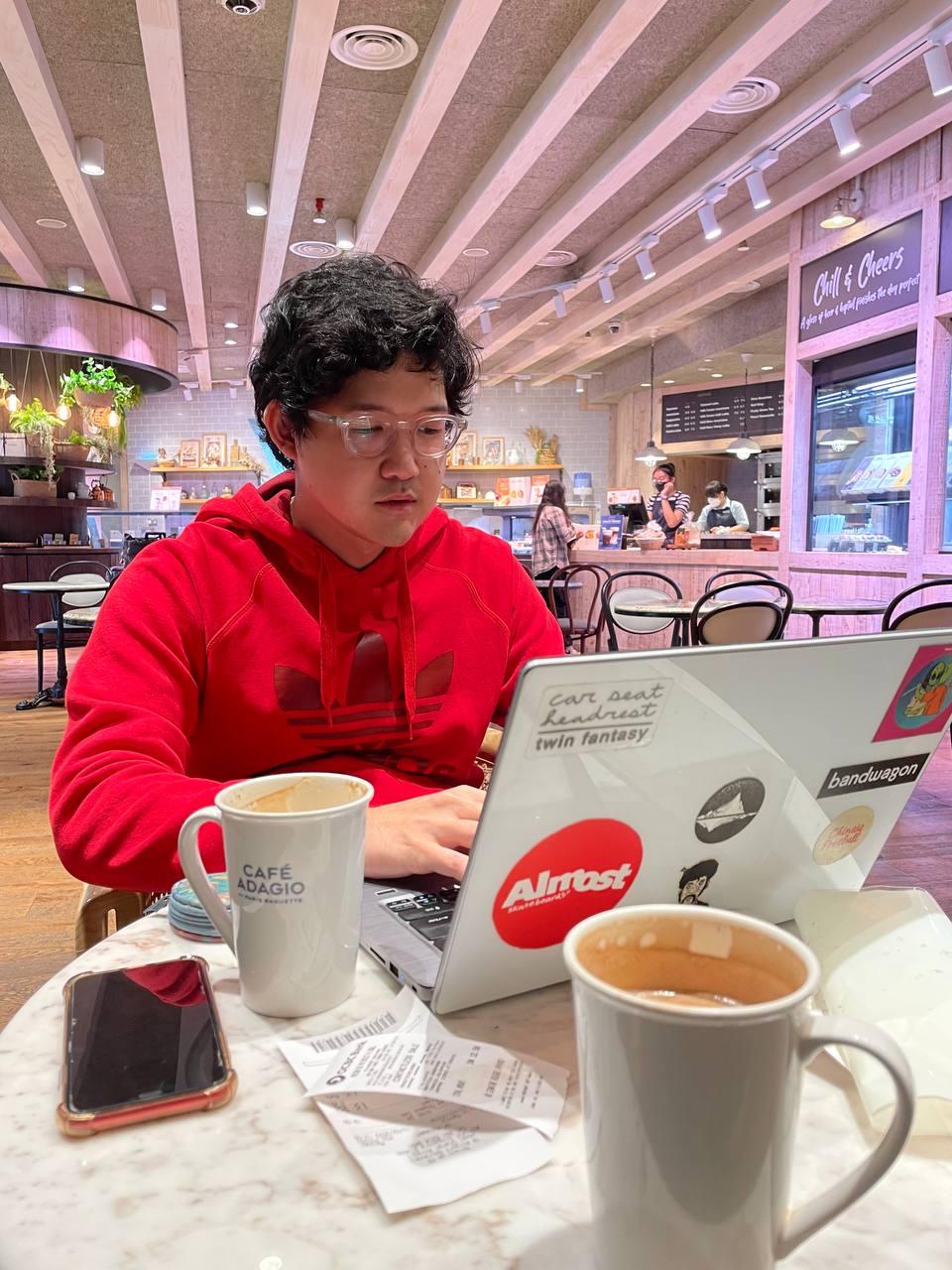 Is he workin hard or hardly workin?
Total Damage
Ranice: $(6.90 + 4.90)
Mik: $6
After studying, Mik and I planned to catch the movie Spencer, a biographical film based on Princess Diana. I so happen to be a crazy Princess Di fan, and have been waiting for this movie to come out since more than a year ago!!
I just wanted to watch her dearest majesty, Queen Elizabeth II on the big screen.
Personally, I would rate the movie TRAGIC/10. Mik rates it a much more comprehensible 4/5. Watch for great acting and a lot of Kristen Stewart.
Dinner
For dinner, I ate nothing, and Mik decided to get 2 burgers from Mos Burger, 1 for dinner and 1 for the theatre…
As some of y'all might recall, one of the previous times we visited the theatre at Jewel, our outside food got confiscated.
Today, we got off scot-free but I'm not sure if it was because we were being more discreet while eating, or because we were in a smaller hall. On that note, this hall didn't even have anyone there to check out tickets!! We could've just walked in there and watched for free to be honest. The hall was so ignored by staff that they didn't even close the door until like 20 min into the movie. Perhaps an exploitation to consider in the future…
The Future of Cafe Exploitation
As my friends and I start moving on to the working world, Mik and I were thinking of transforming Cafe Exploitation into
Krystal Exploitations…
A lifestyle blog, that will mostly cover our exploits, and will basically consist of us reviewing everything we come across. Krystal exploitations, being named after our squad, the Krystal Squad.
» See here for the origins of Krystal Squad!!
Follow our Instagram!
As of now, we will still be posting life exploiting content. We actually have an instagram, @krystalsquad_ that we have just started using again to post our other exploits. The account is run by me, Mik and GOOB (ok he probably won't bother)… So if you're interested, you can give us a follow there

For the Mik fans, we hold regular polls during our cafe exploiting sessions on our insta story.
Is Mik workin hard or hardly workin?
As usual, thank you so much EXPLOITATION NATION for giving us your readership

. More is to come soon… Stay tuned