Rating




Location
LASALLE College of the Arts, Blk D #01-01, 1 McNally St, 187940
Duration
9.30am - 6.00pm
Plugs

Wifi

Prices


---
Journey to Lowercase
Today, I drove. Yes, I can drive. I failed my driving test once, but to my dad, even though I passed, I am still an unacceptable driver. He has been training me, and been encouraging me to drive while he supervises. So today, I drove (with my dad beside me) to pick Mik up from the paya lebar station.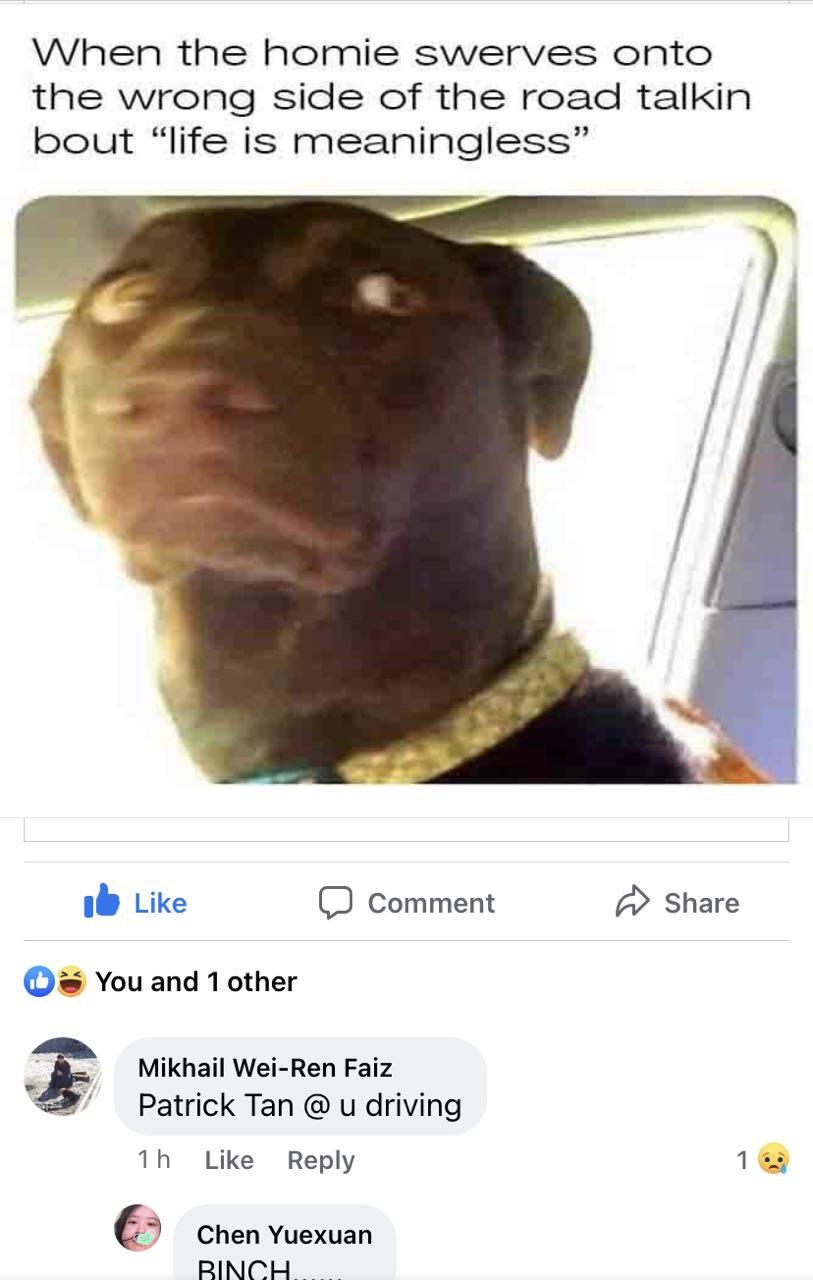 My dad almost went into the f-word zone a few times (f-word zone is me and my sister's code for when my dad gets so angry he goes ballistic), and mik was at the back laughing.
Needless to say my driving still needs some work, at least we made it to lowercase alive.
Lowercase
5G is for the tiddy lovers
The above quote is from mik when I asked him what the difference between connecting to 5GHz vs not 5GHz wifi…
Today, we will NOT be studying at Jewel, because we're going to be watching a movie at the projector later. To set the overall vibe of the day, we decided to study at Lowercase Cafe at LASALLE… The home of the art hoes… Actually we just chose this place because I've been here before and rate this place a solid 4.5/5.
Ran's previous experiences here
I have come here multiple times with my good friend beat-rice, to study here. I would say lowercase is really an ideal location for studying, for it fulfils the following critereon:
Plugs
Acceptable wi-fi
Presence of babes (of the "art hoe" variety)
Friendly staff, the last time I came here the lady gave us seat recommendations for studying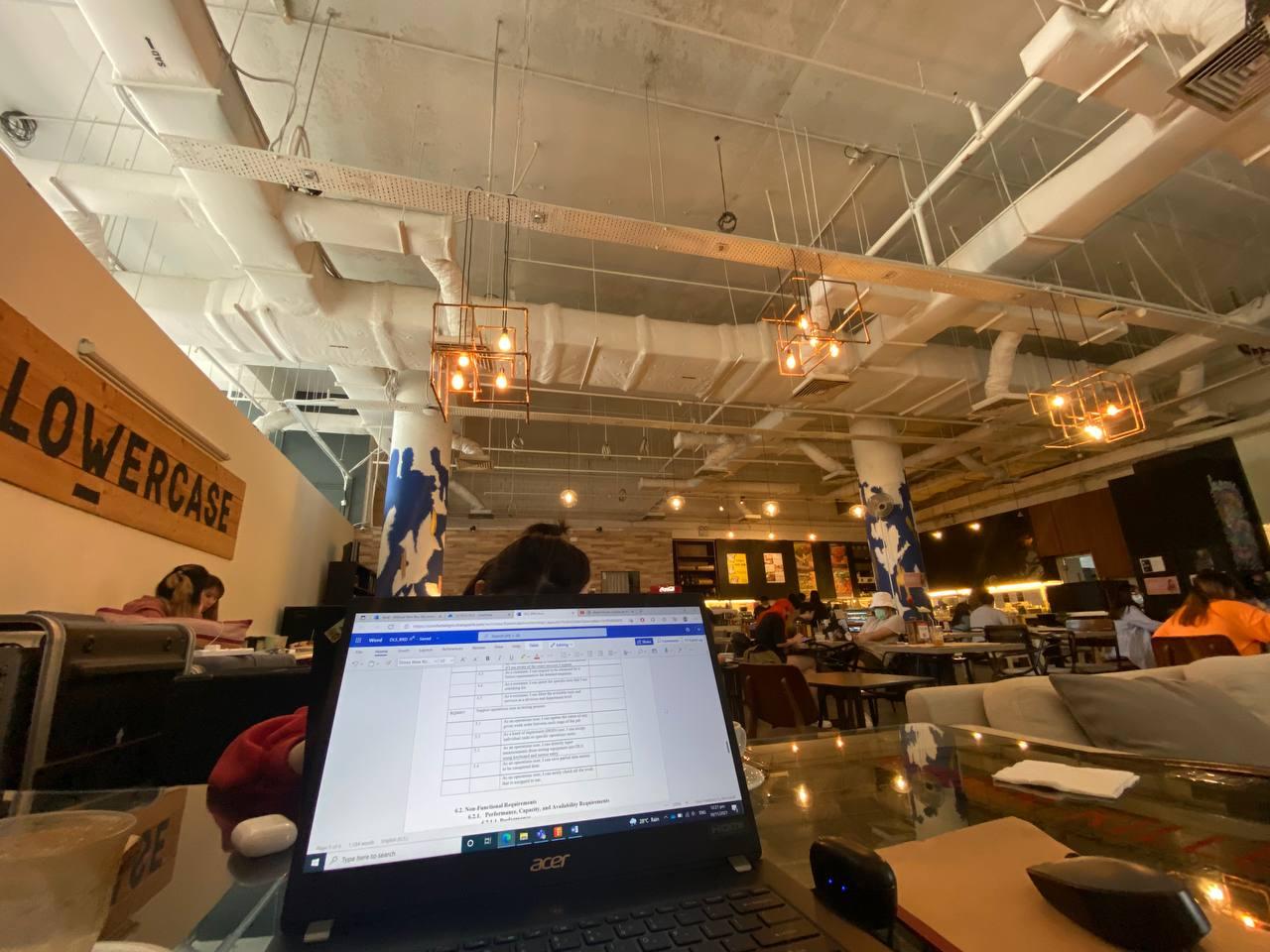 The lofty ceilings... Exquisite.
Additional benefits
Khakabo lan nearby for quick post study gaming session (rates at $2/hr, relatively clean gear and chairs)
There is cheap and affordable food nearby
Cons
Ran's nearby food reccomendations
Salted egg chicken rice at sim lim square L2
The Big Cheese (a mac and cheese place I used to frequent in JC with my best friend E10) at Sunshine Plaza
Broadway food court (under sim lim square) has pretty good ban mian (disclaimer: I have not eaten at broadway for 3 years so don't take my word for it)
The Studying Experience
Breakfast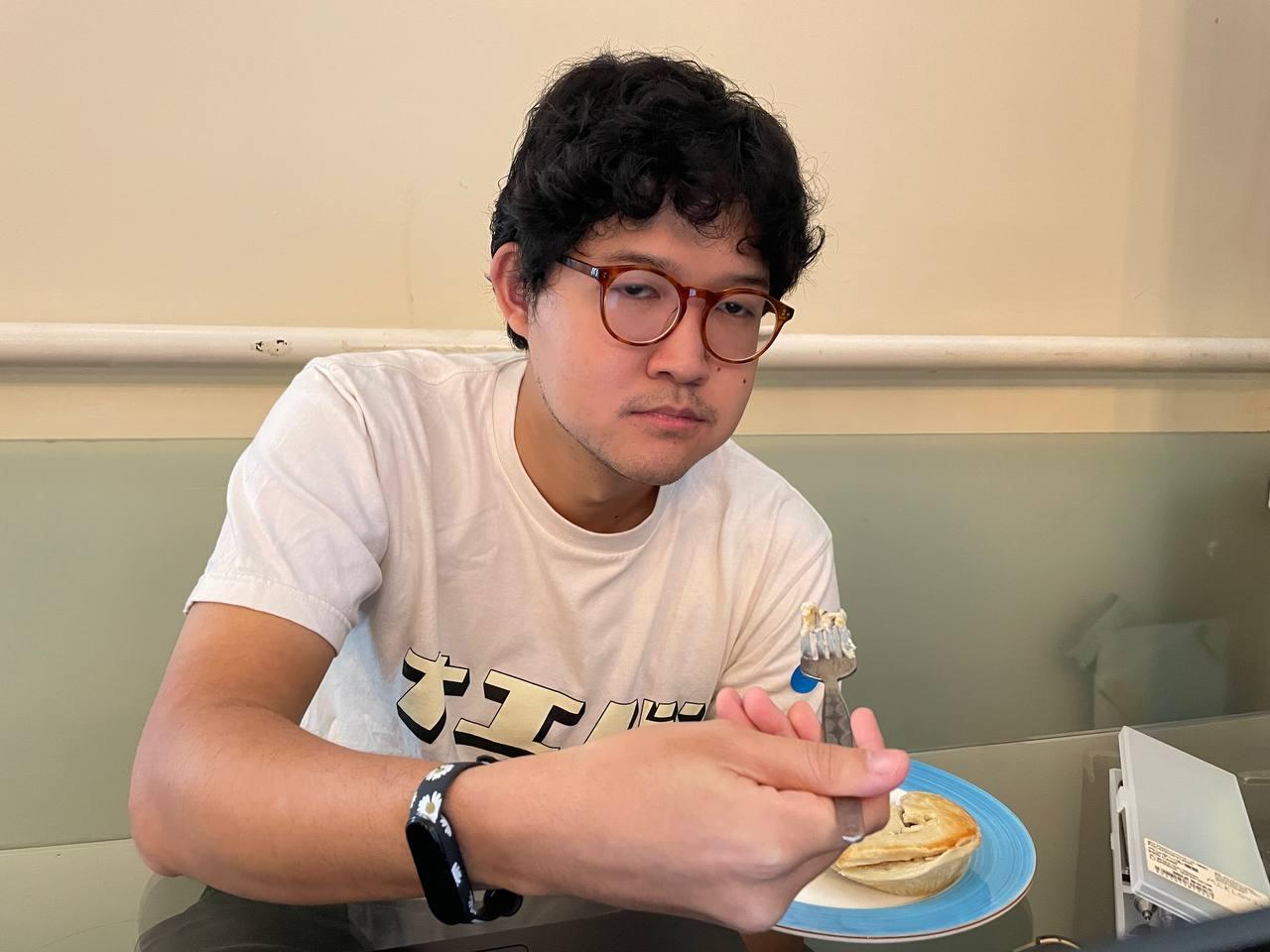 The food is acceptable. For breakfast we both got this mini pie set thing for $4+ and it was really mini. The center of mik's pie was cold, my pie was hot and because I assumed it was going to be cold, I ate too fast and burnt my tongue.
Also, I got this americano coffee. I didn't know what it was but it was the second cheapest option because the original coffee they served with the pie is out. It was tongue-scalding hot and I burnt my tongue again. As I write this, the first half of my tongue is scalded.
Lunch
I did not eat lunch due to the americano rendering my tongue incinerated and my tastebuds putrified. Mik ordered a lunch set of iberico pork linguine, tomato soup, and iced lemon tea. In order to feel like a human with normal appetite, I ordered a mushroom soup. Half of it remains as I write this blog post 5 hours later...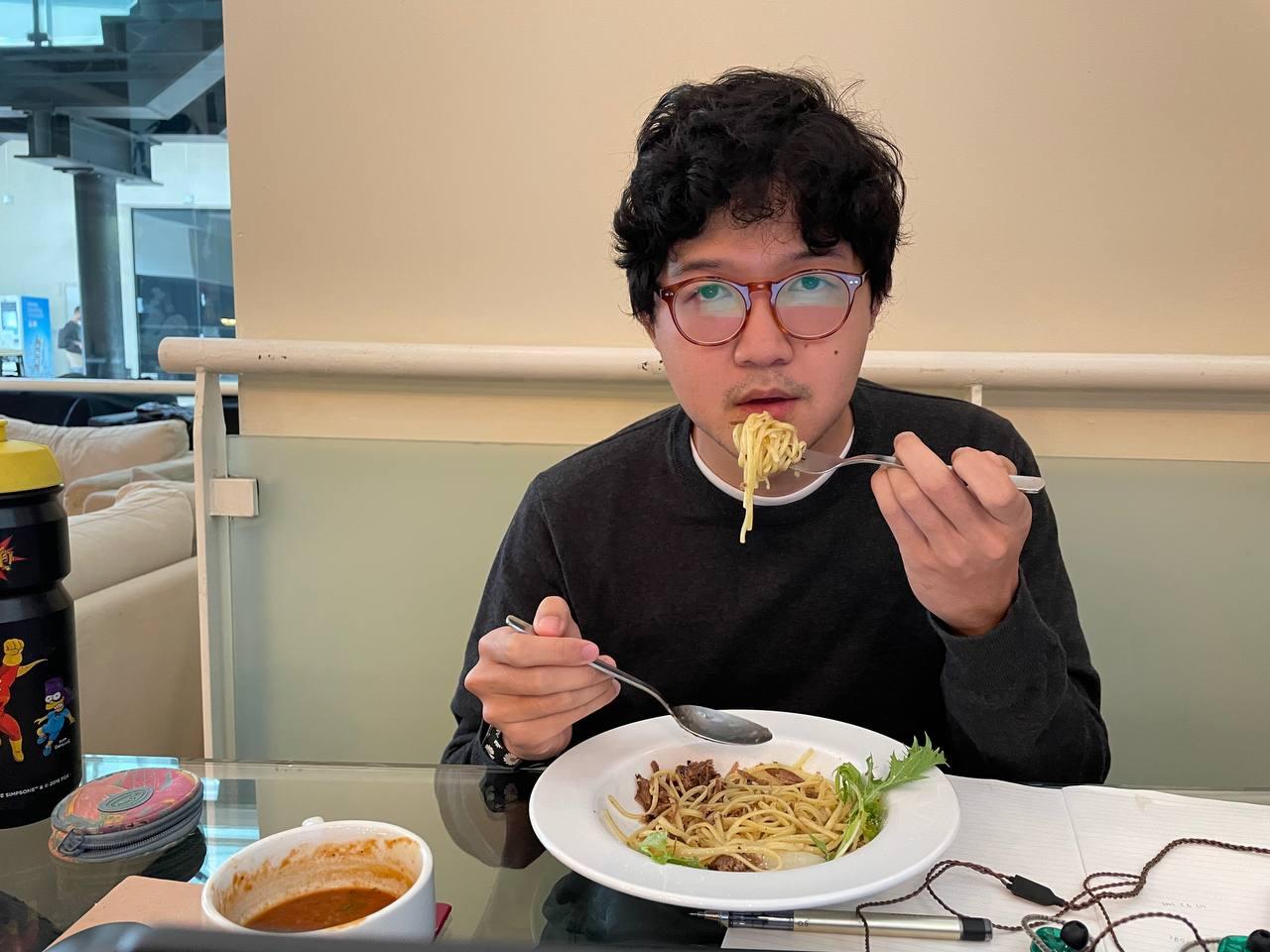 Mik said his pasta was kinda dry and bland but still significantly better than Cafe Amazon's instant meal. The tomato soup was tangy and refreshing, far superior to my sad and unfinished mushroom soup. It is clear to me that mik has absolutely refined taste. His presence truly humbles me...
Toilets
Not going to lie, having taken many dumps in Jewel with the luxury Japanese bidet, I am not accustomed to the level of savagery that comes with taking a dump in a toilet with no bidet. They don't even have the butt washing spray (this is only available in the handicap cubicles so if you plan to take a few fat ones in LASALLE anytime soon, take note). This is why Malaysia is better than us, every toilet I go to always has at least a butt washing spray.
I have been misguided. As mentioned above, there was a toilet in LOWERCASE this entire time. The past times I had been here, beat-rice and I were always seated near the counter, and did not realise that there was a toilet here as the toilet entrace is like behind this big wall. ALSO there are no signs!! I apologise, these are all just excuses. I really need to up my recon skills.
While the female toilets at lasalle were sorely lacking in the ass cleanliness department, Mik shared with me the results of his own toilet recon and his findings left me in shambles. The male toilet cubicles have butt washing sprays!!!
Women are not allowed to have clean buttholes in lasalle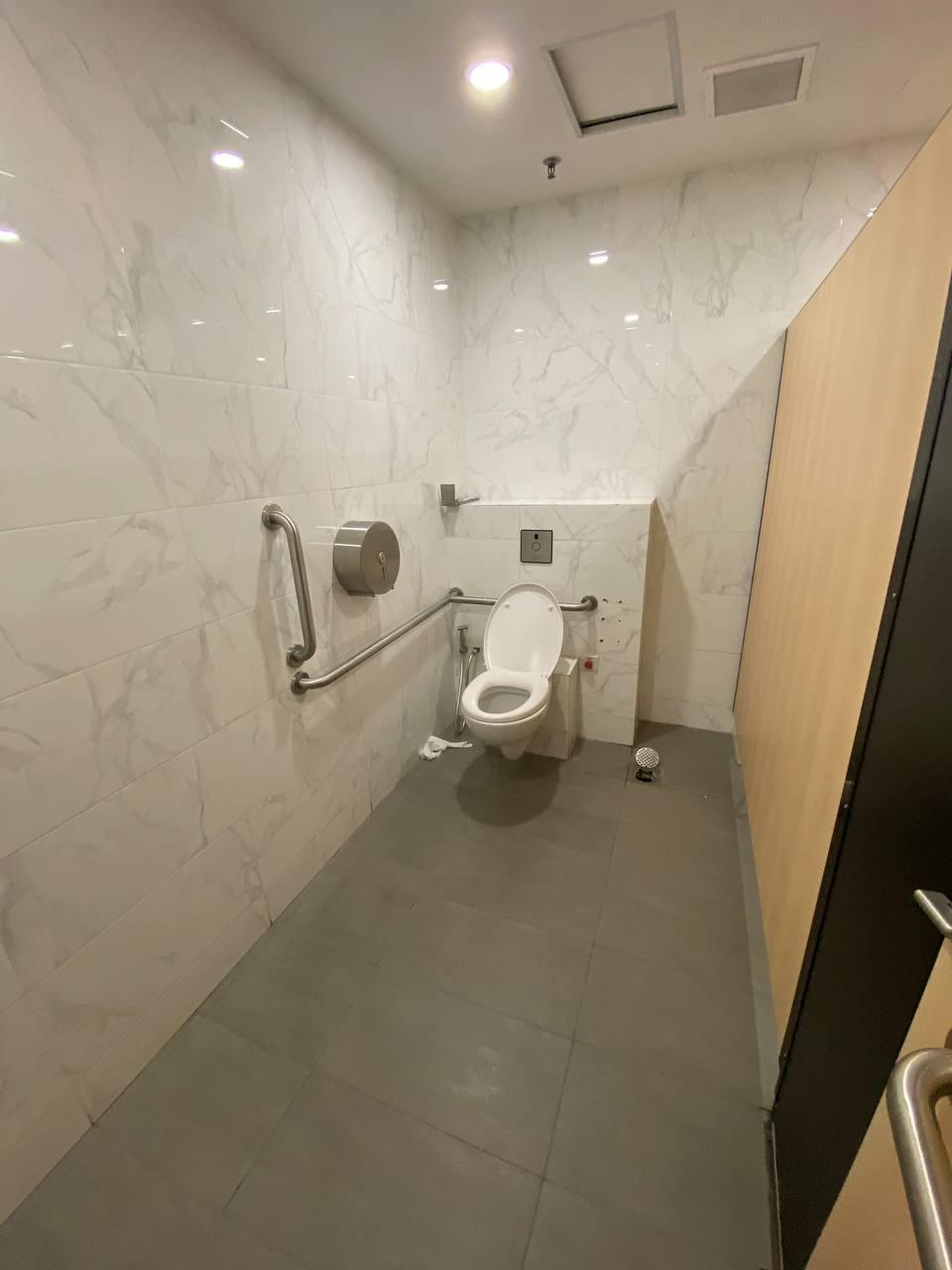 The male handicap toilet in lasalle
The Vibes
The lighting in the cafe is very warm, which gives it a very cosy vibe. Sometimes, warm lighting like this can cause a place to feel too cosy and subsequently a bit unproductive for working in. However, the big window let in a ton of natural light which mostly solved this.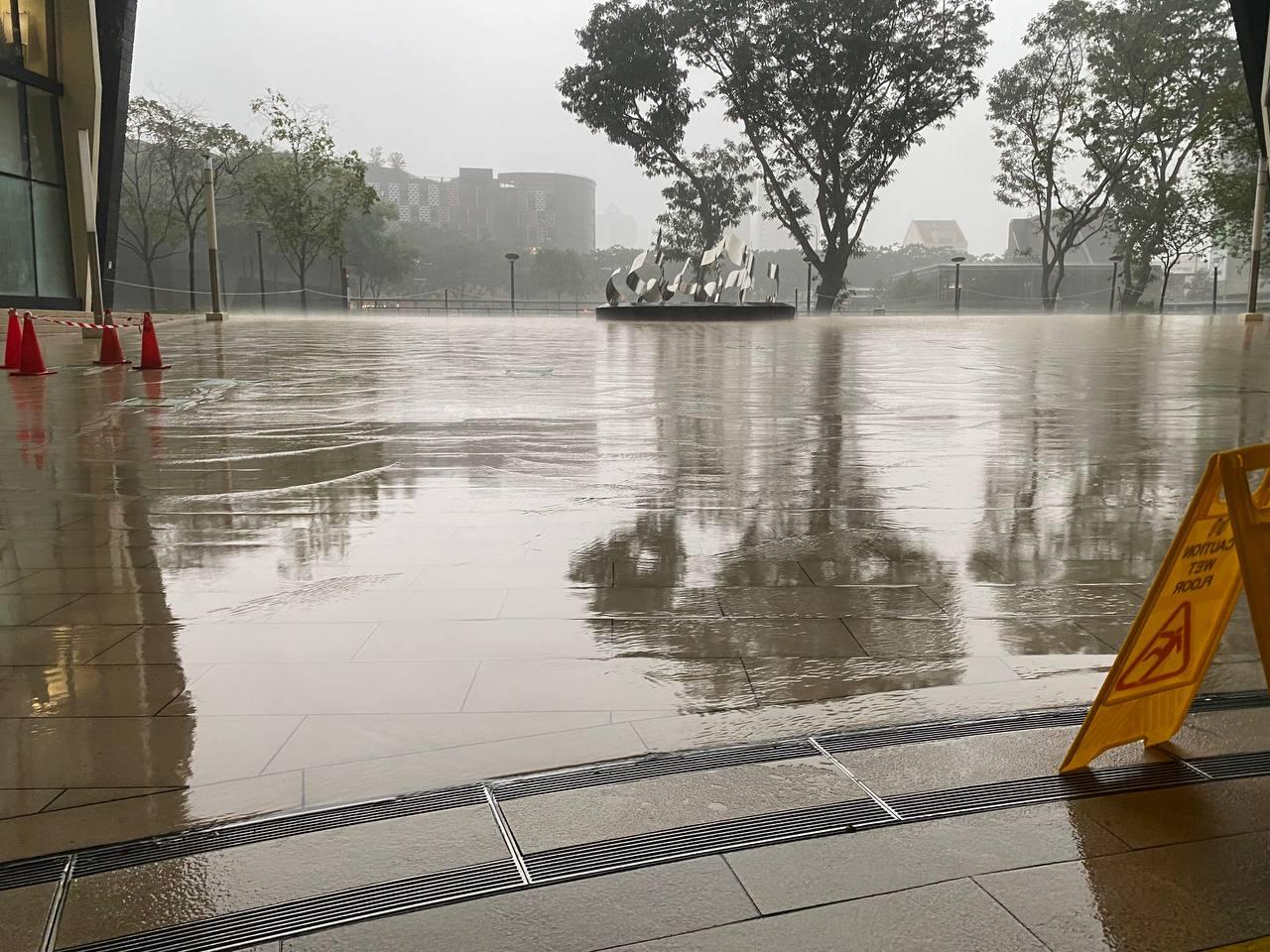 Reminds me of my days in Venice…*
*Disclaimer: Neither of us have been to Venice
BUT, later in the afternoon, it started pouring really heavily and so there was basically zero sunlight coming into the cafe. This kinda made it feel more like a bar than a studying spot and I know Mik's productivity really fell soon after. This is of course quite a minor point and we're really nitpicking here.
Total Damage
Me: $4.80 + 4.80
Mik: $(5.80 + 12.80)
Conclusion
Y'all already know my rating for this place, a solid 4.5/5.
Mik?
I give it a 4.
Lowercase is nice, and I have no gripes with it. Mik though, says he would only come if he's in the area. Because Jewel is simply superior…
Curse Battle
It is common occurance for the people I spend time with to make threats against my life, or threats to do something bad to me, like shit on my head, etc. Mik is obviously one of those people.
I passively accept this but sometimes I have to retaliate to show that I am not a complete doormat, so I cursed him.
I curse thee… For every threat you make against me, you shall be met with a minor inconvenience, e.g., whenever you bring out your earpieces, they will always be tangled… whenever you wear ankle socks, your socks will always slip below your foot…
However he make a counter-curse
If you don't lift your curse, your driving skills will never improve…
Touche… So I lifted the curse…
Dinner
For dinner we had SECR (salted egg chicken rice, which I will from now on refer to via this acronym). It was the one at sim lim and it was good. Not gonna lie my appetite has been shite lately so I just got soup. Here is an image of mik trying to force me to eat.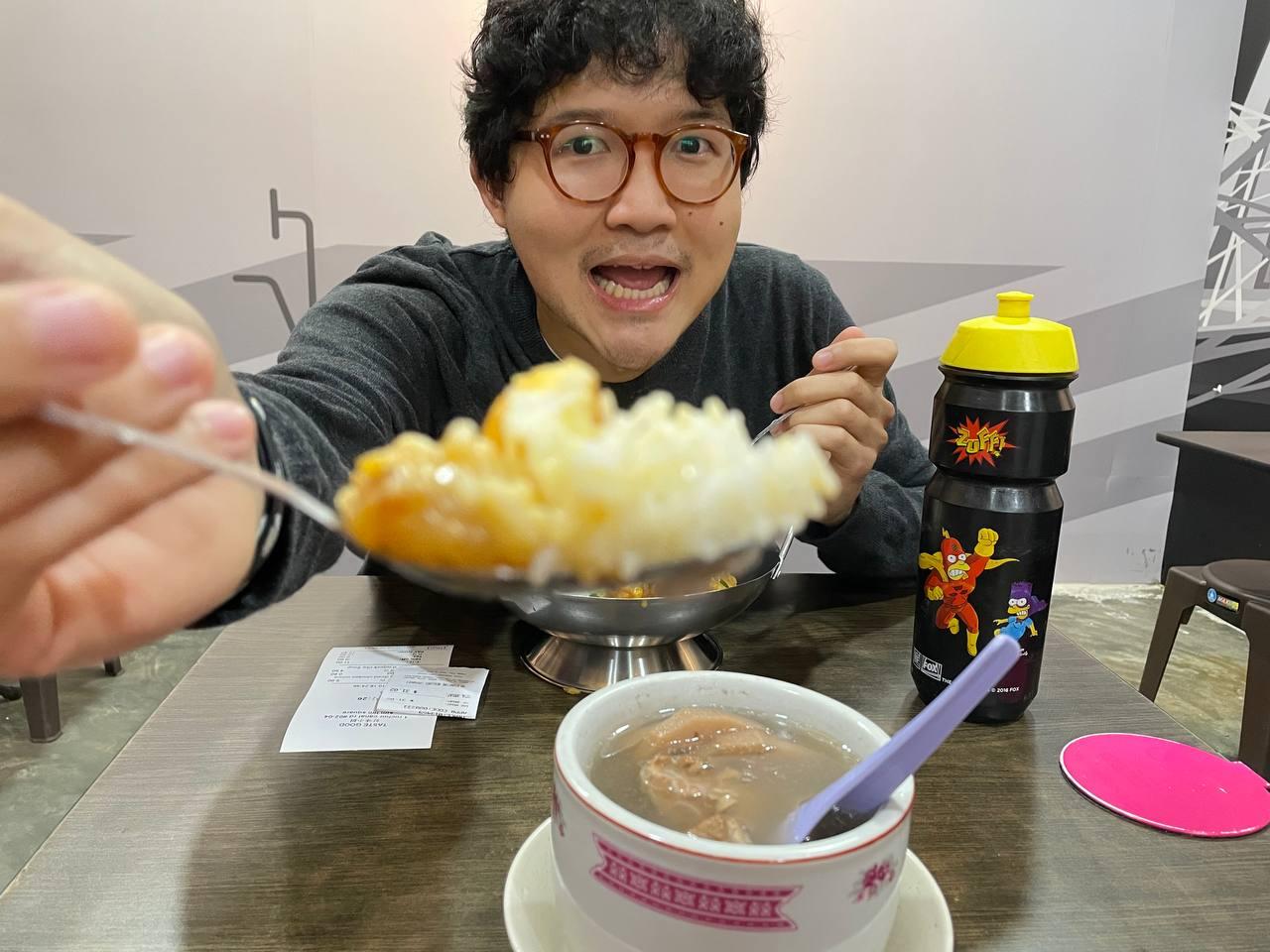 I got my fave soup. Shawty got the peanuts and the lotus root…
Kajillionaire
As mentioned earlier, mik and I were due to see this movie at the projector. It was a free screening by our school, of this movie called Kajillionaire.
I rate this 4.5/5, mik rates this 4/5. Do with this what you will.
There was a panel discussion after the screening, which we both thought was really enlightening. I was really engrossed in both the movie and the discussion, which really makes me question my choice of major since I always zone out 15 mins into any CS lecture I attend.
Also, I think I have a fat ass cruch on Evan Rachel Wood… (lead actress of the film)
That is all for this edition of cafe-exploitation. To the fans, thank you so much. To the haters (pazzion staff), also thank you so much. We are getting MAD hits on this site.
See you guys soon…!