Rating





Location
Jewel, #04-225, Singapore 819666
Duration
11am - 6pm
Plugs

Wifi

Prices


---
We came across Amazon Cafe after the last study session, when we were scouting for potential locations to hit in our future sessions. We saw the plugs and the prices, and were reeled in.
The Studying Experience
The studying experience here was pretty good. I am writing from the cafe like right at this moment. There are some plugs, not many, so you have to come early. I arrived here first, like right as the cafe opened. It's good to always go to cafes early so you can get the good seats with the plugs.
HOWEVER, for some reason, halfway through the studying session, the wifi at Jewel just stopped working! I guess this is something you people should look out for when coming here. The wifi is quite lousy too at times. I'm not sure if it's because of my operating system, my laptop or just really the wifi sucks. The last time I came here (O Coffee) it wasn't like this :/
The toilet near here has the fancy Japanese bidet.
The Coffee and Food
I would say the food here is decently priced, not very cheap but acceptable.
For the drinks, we got this 1-for-1 deal, 2 drinks for $8. Mik got this yin yang shit which is matcha mixed with coffee, and I got a mocha (again).
Lunch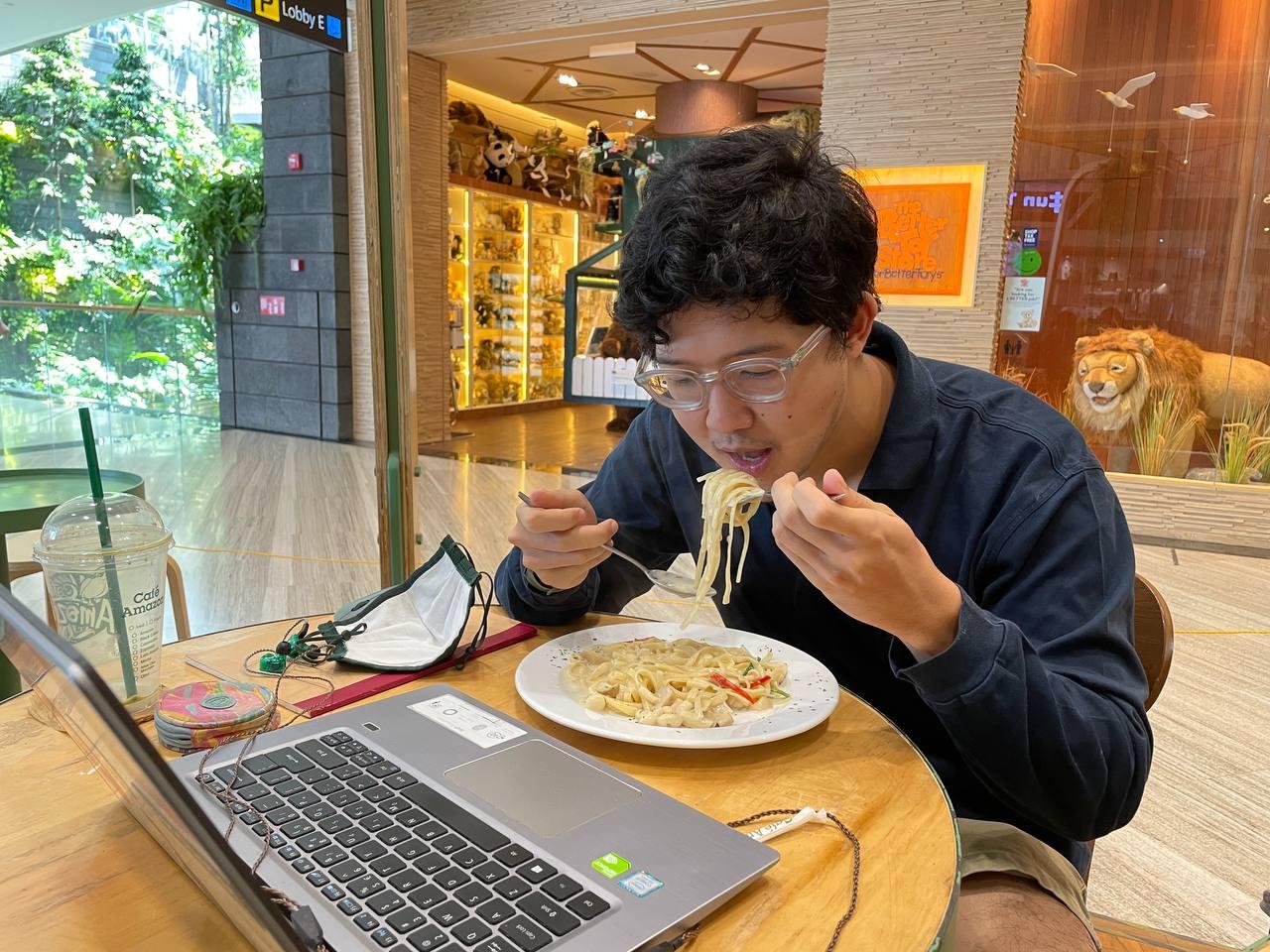 For lunch, there was another 1-for-1 deal, 2 pasta dishes for $14.80. Mik got this thai-pasta fusion thing, I got this chicken bolognese. To be honest, the food was not very good, Mik said it was like prison food, like, about the same level as western food from the hawker center. So these prices may seem ok but when you taste the food, you start to feel like $7+ for this pasta is not really acceptable.
According to Mik, compared to O Coffee Cafe, the prices at O Coffee Cafe seem more worth it because the food there actually tasted pretty good.
Total Damage: $(8 + 14.8) / 2
Conclusion
We give this place a 4/5 stars. There is a decent ambience here, and the prices of the food and drinks are decent even though they have prison food energy.